Crypto ETF investing comes with a warning – Sydney Morning Herald
Within 15 minutes of the first cryptocurrency exchange-traded fund (ETF) hitting the boards of the Australian Securities Exchange, its trading volumes had already surpassed the previous record for an ETF on its entire first day of trading.
And it is not even an ETF that invests in crypto, but rather businesses that facilitate trading in the crypto gold rush, such as exchanges. Nevertheless, investors piled in.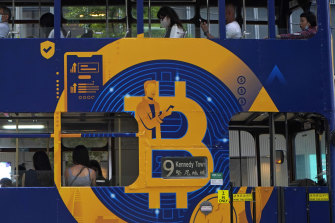 The BetaShares Crypto Innovators ETF (ASX: CRYP) that launched last week is passively managed and tracks the Bitwise Crypto Industry Innovators Index, rather than seeking out crypto-related stocks that its managers believes will do better than others.
The index has its largest exposures to US-listed crypto exchange platform Coinbase and Galaxy Digital Holdings, a technology driven financial services and investment management firm.
The launch comes after the Australian Securities and Investments Commission (ASIC) recently gave ETFs that invest in crypto-linked assets the green light.
BetaShares says it is poised to launch an ETF that invests in bitcoin and another that tracks ethereum, subject to receiving regulatory approval.
Judging by the rush to secure a slice of the Crypto Innovators ETF, demand will be strong.
The launch of the new-wave ETFs will likely push investing in digital currencies further into the mainstream.
While crypto can potentially be a lucrative investment, it is also highly volatile.
BetaShares tells investors thinking of investing in the Crypto Innovators ETF that it is "very high risk". "Crypto-assets are highly speculative in nature and companies with significant exposure to crypto-asset markets can be expected to have a very high level of return volatility," it states.
Alex Vynokur, chief executive of BetaShares, reiterated the point at the launch of Crypto Innovators. "We would also like to stress the importance of diversification and, as such, investments in digital assets should be considered as part of a broadly diversified portfolio," he said.
Chris Brycki, founder of Stockspot, an online investment adviser and fund manager, urges investors to be particularly careful of "themed" investments, including ETFs.
Original ETFs tracked broad market indices, such as the Australian sharemarket or a benchmark index that mirrored an international market. They are a great way to buy into the sharemarket cheaply.
However, thematic ETFs follow a niche sector or a sub-group of companies. Brycki says ETFs that invest in crypto businesses or the digital currencies themselves are prime examples.
Investors should remember what happened in the tech boom of the 1990s that became the "tech wreck" in 2000, Brycki says.
Loading
The theme was real in that technology – particularly the internet – was changing the world. However, many people invested at the wrong time, just before prices of tech stocks plunged.
While companies such as Amazon went on to great things, other tech stocks disappeared during the tech wreck. Even Amazon's share price fell by 95 per cent and took almost 10 years to recoup its losses, Brycki says.
He says it is not hard to see the same thing happening with crypto. He says thematic ETFs usually launch when retail investor interest is near its peak and the theme has enjoyed strong past returns.
"These returns rarely continue because the market information that led to these strong returns is already priced in to the share prices of the companies within the ETF," he says.
Advice given in this article is general in nature and is not intended to influence readers' decisions about investing or financial products. They should always seek their own professional advice that takes into account their own personal circumstances before making any financial decisions.