European stocks stumble amid wild swings for natural gas prices as Russia promises to help – MarketWatch
Investors endured wild swings in natural gas prices in the U.K. and Europe on Wednesday, while the stocks in the region fell amid concerns over inflation and rising bond yields.
The Stoxx Europe 600 index SXXP, -1.19% fell 1.4% to 449.48, with nearly all sectors except food retail in the red. The German DAX DAX, -1.55% and French CAC 40 PX1, -1.51% were down over 1.6% each and the FTSE 100 UKX, -1.10% fell 1.4%.
But the bigger action was seen in natural gas prices, which soared earlier on Wednesday in Europe and the U.K., before falling dramatically. The swing lower coincided with reports that Russian President Vladimir Putin promised to increase gas shipments to supply-challenged Europe, according to AFP.
"They've made mistakes," Putin reportedly said, in a televised meeting with the country's Russian energy officials. Some have accused Russia of withholding gas supplies to speed up the launch of its controversial Nord Stream 2 pipeline launch between Russia and Germany.
Russia's Gazprom RU:SIBN owns operator Nord Stream 2 and the company on Tuesday reportedly appealed a ruling that said its Nord Stream 2 pipeline will be subject to EU rules that require pipeline owners differ from gas suppliers.
In a dramatic few hours, U.K. natural gas prices GWM00, -9.23% climbed nearly 40% at one point to a record 414 pence a therm, before swinging lower to recently drop 5% to 286 pence a therm, as reports of Putin's comments surfaced.
November Title Transfer Facility (TTF) natural gas futures in the Netherlands — the European benchmark — were last down nearly 3% to 113 euros per megawatt hour (MWh), after earlier surging more than 30% to 161 euros.
Analysts have been fretting about fallout from a cold winter and energy shortages in Europe amid prices that have been hitting records for weeks.
"The current energy crunch and rising commodity prices are the worst since the energy crises of 1973 and 1979, and will have a profound impact on companies, households, and inflation. In our view, risks are skewed to the downside in equities and the correction has not even remotely exhausted itself," said Peter Garnry, head of equity strategy at Saxo Bank in a note to clients.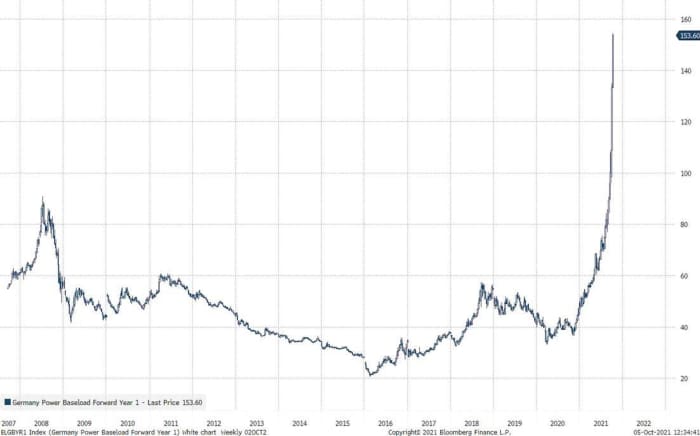 "In many countries there are a shortage of workers and interest rates are now also responding to the energy crunch. Everywhere, we look at companies' profitability under pressure from rising input costs across the whole cost structure. This will be the overreaching theme in the coming Q3 earnings season," he said.
Elsewhere, investors were watching rising U.S. bond yields, with the German 10-year bund yield TMBMKDE-10Y, -0.185% up 3 basis points to -0.181%, a level not seen since July.
Elsewhere in Europe, travel and leisure stocks were under pressure. Decliners included Deutsche Telekom DTEA, -4.52%, Airbus AIR, -2.62%, and BASF BAS, -3.19%.
The biggest Stoxx 600 gainer was Tesco TSCO, +7.35% which rose 6% after the U.K. grocer said sales and profit growth came in better than expected in the six months to August. The biggest fall was Norway's online classifieds specialist Adevinta ADE, -6.18%, shares of which fell 7%.